Don't Believe This!!!!!!!
(l&l=love and lighter)
I wrote this in the l&l IA group, I must have been high on romantic BS or something, DO NOT BELIEVE IT, IF YOU KNOW WHAT IS GOOD FOR YOU, DON'T THINK like the l&ls... mind you in the town where I grew up we had a BUTCHERY called L&L and if you know what is good for you you would take that as a WARNING to not believe in the GOODNESS in all, it may hurt you even beyond repair if you are not vigilant of the snakes in the souls of the l&ls:
i am an IA:
ARIES BROTHER ON PEACE:
By: Me
Written on September 16th, 2012
Okay so my little bro who is an aries once told me:
"You know the only way you are going to get into heaven is when you don't have any problems or troubles with other people!!!"
I was like yeah WTF ever... Because I did not understand it then....
But when I can see the good now in all people despite the dark...
I can believe....
I just have to believe to make peace with those around me...
To make peace with the darkness within them that can hurt me...
If only I have enough faith in the fact that they too yearn for love, peace, goodness and kindness to be done unto them, to come to them, to live it, to find it...
If I know deep down that there is a special yearning like this in each soul I meet....
Then I can say I still believe in the GOOD in all...
There is a glimmer of Hope and it is their desire to reach the Light of God with me....and others!
-----------------------
IF ALL WAS SO LOVE AND LIGHTY IN THE REAL WORLD, why did two of my brother's friends commit suicide in one month????? my brother is just a romantic believing in all the GOODNESS being some hectic liberal, loving all colours and all races, loving all PEOPLE no matter what, it doesn't even matter if they threaten to kill his own race.... like the love and lighters are threatening to "kill and silence" the fallen angels, the true keepers of spiritual knowledge... we are NOT THE REAL DEMONS, but those who pretend to be love and lightey angels living in denial of darkness, it is they who FOOL AND DECEIVE PEOPLE!!!!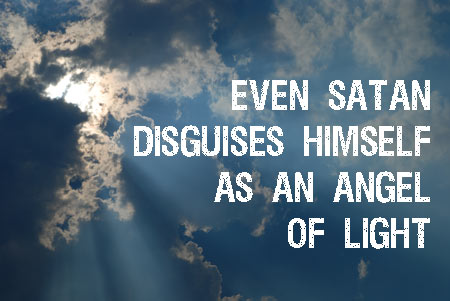 And no wonder, for even Satan disguises himself as an angel of light
(2 Cor 11:14)
indigowitch
22-25
, F
0
Sep 16, 2012