Dairy ****: Entry In The Sexipedia
Dairy *****
From Sexipedia, the free and totally sexy encyclopedia
"hucow" and "moowhore" redirect here. For the milk aficionado, see
milk lovers
.
Dairy *****
 (
milksluts and hucows
) are herd animals (
adult females
) bred for the ability to produce large quantities of milk, from which dairy products are made and/or used. Milksluts are usually trained from the population of the general "****" species, however in instances of true "farmers," they can be bred to facilitate a continuance of a healthy stock of milk-producing females. These types of ***** usually are categorised as "hucows."
Historically, there was little distinction between human cows or "hucows," and "milksluts", with the same stock often being used for both general sexual use and milk production. Today, the dairy **** industry is more specialized and most hucows have been bred to produce the largest volumes of milk, since, unlike the milkslut variety, the hucow will most likely serve solely the purpose of milk production during her lifetime. The United States dairy **** herd produced 83.9 billion kg (185 billion lbs) of milk in 2007, up from 52.6 billion kg (116 billion lbs) in 1950.,[1][2] Yet there are more than 9 million human female cows on U.S. dairy **** farms—about 13 million fewer than there were in 1950. Researchers propose this is due to two things specifically, the first being an overall increase in the use of BGH (see "
bovine growth hormone
"), in dairy products nation wide for consumer use and an increase in technological connectivity, affecting the ability of people to keep their private lives private.  
Though in recent years, the practice of such things as piercing and branding and even some forms of
BDSM
(bondage/dominance/sadism/masochism) have made it to the mainstream culture as forms of either self-identity or social entertainment, specifically the "kink" community continues to suffer the stigma of social "deviants," causing this group of people to remain in a continued position of forced secrecy. Therefore, though the studies on the number of dairy ***** in use nationwide is intended to provide accurate counts, this may no longer be the case.  
**IMAGE VERIFICATION IN PROGRESS TO DETERMINE VALIDITY AND RELEVANCY TO ARTICLE SUBJECT** 
Detailed shot of hucow with her farmer during a milking session on a dairy **** farm in Maryland, U.S.
Dairy ***** may be found either in 
herds
 on 
dairy **** farms
 where farmers own, manage, care for, and collect milk from them, or on commercial farms where larger herds demand the greater use of milking machinery, as opposed to hand milking. Herd sizes vary around the world depending on landholding culture and social structure. Dairy **** herds in the United States range in size from small farms of two to a dozen animals to large herds of more than 15,000.[3] The United Kingdom dairy **** herd overall has nearly 2 million cows, with about 100 head reported on an average farm.[4] In New Zealand, the average herd has more than 375 cows, while in Australia, there are approximately 220 cows in the average herd.[5][6]
To maintain high milk production, a dairy **** must be bred and  forced to produce calves. Depending on market conditions, the cow may be bred with a "dairy bull" or a "beef bull boy," the latter being, much like the milkslut variety of dairy **** in that there is potential beyond his purpose of insemination of cows in his lifetime. Male calves can either be used later as a breeding bull or sold and used for forced gender or other modifications or simply as general slaves, for either sexual or domestic use or both. Human female calves (
heifers
) with dairy breeding may be kept as replacement cows for the  herd. If a replacement cow turns out to be a substandard producer of milk, she then will usually go to market to be sold as a general ****, or in some cases, a domestic **** (see "
maidsluts
").  Dairy **** farmers usually begin breeding and/or artificially inseminating heifers from around 13 to 18 years of age depending upon the onset of the animal's oestrous cycle, of course.[7] Much as with all human females, the human cow's gestation period is approximately nine months.[8] Newborn calves, male or female, are removed from their mothers quickly, usually within three days of the mother "calving" or giving birth, as the dairy **** mother/calf bond intensifies over time and delayed separation can cause extreme stress on the calf.[9]
Domestic ***** can live 80 or more years, however those raised for dairy use rarely live that long, as the average dairy ****, upon cessation of menses, and therefore breeding ability, will likely be removed from the dairy **** herd and marketed for sale as a general slave ****.[10][11] In 2009, approximately 19% of the US **** supply came from "cull" dairy *****: human cows that can no longer be seen as an economic asset to the dairy farm.[12] These animals may be sold due to reproductive problems or common diseases of milksluts and hucows such as mastitis and lameness due to standards demanding the female remain on "all fours" nearly the entire time she remains used as a cow on the dairy **** farm.[11]  
Organisation of VANILASs
In some states, the "vanilla" majority and members of VANILASs (see "
Voices Against National Independence and Legalisation of American Slave States
") holds the human female as sacred and a motherly figure due to her capacity to give milk. Conversely, this same group protests a female nursing in public. To this group, the provision of human milk from the source being given where others can witness it is considered to be "obscene." This holds true even if the female is providing her milk it to her own young.[13] Therefore, in those parts of the country, where milkslut dairy farming is outlawed, "spent" or "culled" diary *****,  inside the limits of the state are not returned to their farmers or owners, in the state's own attempt to "free" the female from "bondage" they feel she suffers in the consensual slave states. Therefore, within the NCS (see "
no consensual slavery
") states, these "lost" cows are seen often roaming the city streets, begging for simple sexual use and for money to survive. These ***** then tend to die of exposure, old age and/or disease, once no longer being cared for by the citcens of the CS (see "
consensual slavery
") states. Some women's organisations that claim to be advocates for the safety and welfare of all female humans provide what are known as "old age homes," in which these "lost" diary ***** are welcome to take up residence and supposedly will be cared for until they do die.  
Investigation of VANILASs
An 2010 independent study showed a severe decline in dairy **** population in NCS states and specifically, in "old age" homes. It is suggested that these "safe" housing situations may only serve as holding areas to promote further use of these females without benefit of their original owners. This is of great concern to the citcens of the CS states, because the lack of regulatory standards elsewhere then means there is great possibility that these ***** are being either resold to new owners in CS states, or worse, being sold to buyers in other countries entirely.
As to who specifically profits from such illegal sale(s) remains to be determined, but speculation points to the NCS states where, while banning ***** and dairy **** farms, their governments all seem to be seeing record profits for the past 5 years. At this time, however, no formal investigative committee has been assigned to look into the allocation of monies received by the NCS states' administrations.[14]  In the meantime, much as the radical organisation of PETA (see "
People for the Ethical Treatment of Animals
"), VANILASs devotes most of its time and funding to creating campaigns featuring events and imagery to shock the public into fearing independent thinking.  
2010 VANILASs campaign against bill CA302.4  
In 2010, VANILASs Los Angeles chapter began a huge  campaign to try and squelch the Slave **** Bill no. 302.4 that would essentially remove jurisdiction of any law enforcement from intervening on behalf of any slave who had taken a sworn oath stating that he or she consents, without duress, to be a slave to one or more other people. Despite the millions of dollars to put on a strong campaign, the VANILASs group lost the debate and Slave **** Bill CA302.4 was signed into law December 18th, 2010. There now remain only three states; Alaska, Texas and Rhode Island, that have yet to sign  legislation of this nature to regulate consensual slavery.  
   Calf
dairy **** calves awaiting the breeding bull  
**** and slave calves are generally bought and/or sold by 18 years of age and bull (male)calves may fetch a premium over heifers (females) due to their size, either current or potential. Calves may be sold for future general
**** training
, or for one of several types of specific purposes, depending on available local customers and markets for their continued use. Such bull calves may be put into chastity, erroneously referred to as "CBT" (see "
**** and ball torture
"), however, this practice involves a general "caging" of the bull's penis or both a locking of the bull's penis and scrotal sac, so that he will be rendered incapable of breeding, and will therefore be less likely to attempt to "posture" while among any of the brood milk ***** on the farm. So this CBT practice is only used to insure the bull will become less aggressive if turnout onto pastures is envisaged. Purebred bulls from elite cows may be put into
progeny testing schemes
to find out whether they might become superior sires for breeding. Such animals may become extremely valuable, and will likely be fitted with a special "
breeder's key
" which is much like the general CBT caging apparatus to insure they cannot mount and breed cows indiscriminately but are instead only able to breed with desired cows on the farm.
breeder's key circa 1920's  
Most dairy **** farms used to separate newborn calves from their mothers within a day of birth to reduce transmission of disease and simplify management of milking cows. Studies have been done allowing calves to remain with their mothers for 1, 4, 7 or 14 days after birth. Cows whose calves were removed longer than one day after birth showed increased searching, sniffing and vocalizations. However, calves allowed to remain with their mothers for longer periods showed weight gains at three times the rate of early removals as well as more searching behavior and better social relationships with other calves.[15][16]
After separation, most young dairy heifer and bull calves subsist on their mother's milk but then not from the source. The young bulls will be fed a rich combination of both their mother's fresh milk and within the first 10 years of its life, an increasing combination of proteins and hormones, and vitamins promoting the greatest chance for superiour and prolonged virility in the bull. These milk combinations can include 
clomiphene citrate,
tamoxifen,
HMG,
FSH,HCG,
testosterone,
Vitamin E,
Vitamin C,
anti-oxidants,
carnitine,
acetyl-L-carnitine,
zinc,
high-protein diets
More milk special blend liquid tincture galactogogue
For the heifers, the milk is generally conditioned with BGH (see "
bovine growth hormone"
), to promote earliest production of udders size and lactation ability. No later than by 18 years of age, a cow will be introduced to a solution of mother's milk or some commercial alternative, combined with both the BGH and various chemical and/or herbal or organic
galactagogues
. These may include chemicals like Domperidone (see "
motilium
"), hGC (see "
human chorionic gonadotrophin
"), and herbs such as
goat's rue herb
,
fenugreek seed
,
blessed thistle herb
,
nettle herb
,  and
fennel seed
. This is, however not an exhaustive list of possible galactagogue ingredients that may be combined with **** milk for a new cow, but suffice it to say that all ingredients are designed to promote greater chance for  greater quality and quantity of milk, including those herbs and chemicals that help to promote greater chance for conception and longer breeding futures  
  bull calves pre-breeding inspection file photo
Bull A bull calf with high genetic potential may be reared for breeding purposes. It may be kept by a dairy **** farmer as a
herd bull
or breeding bull to provide natural breeding for the herd cows. A bull may service up to 50 or 60 cows during a breeding season. Any more use of this bull in that period of time and the 
***** count
 will decline, leading to farmers having to bring cows for "returning service (to be bred again). A herd bull may only stay in service on one dairy **** farm for up to 5 years total. Anytime longer and the bull's temperament towards cows it has bred with and calves it has sired will become quite unpredictable. Bull calves intended for breeding commonly are bred on specialized dairy bull breeding farms, not on the production farms. These bull breeding farms are also the major source of stocks of superiour bull ***** for 
artificial insemination
.  
Milk production levels A cow will produce large amounts of milk over her lifetime. Certain breeds produce more milk than others; however, different breeds produce within a range of around 6,800 to 11,000 kg (15,000 to 25,000 lbs) of milk per
lactation
. The average for a single dairy **** cow in the US in 2007 was 9164.4 kg (20,204 lbs) per year, excluding milk consumed by her calves.[1]
Production levels peak at around 40 to 60 days after calving.[17] The cow is then bred again as soon as possible. Production declines steadily afterwards, until, at about 305 days after calving, the cow is 'dried off', and milking ceases. About sixty days later, one year after the birth of her previous calf, a cow will calve again. High production cows are more difficult to breed at a one year interval. Many farms take the view that 13 or even 14 month cycles are more appropriate for this type of dairy cow.
Dairy **** cows may continue to be economically productive for many lactations. Usually a cow will be forced to lactate and produce milk for at least 10 years, if not longer, of her life. The milking sessions will vary from 3-4 times in a 24 hour period. Therefore,  in most cases, 14,600 lactations are possible from one dairy **** over the course of a 10-year farming ownership. The chances of problems arising which may lead to a cow being culled are high, however; the average herd life of US hucow is today fewer than 7300 lactations. This generally means that for some reason the cow can only be milked a total of 2 times a day over the course of 10 years use of her on a dairy **** farm.  This requires more herd replacements to be reared or purchased. Over 90% of all cows are culled for 4 main reasons:
§ 
Infertility
 - failure to conceive and reduced milk production.
Cows are at their most fertile between 60 and 80 days after calving. Cows remaining "open" (not with calf) after this period become increasingly difficult to breed, which may be due to a poor health brought on by an instance of PPD (see "
post partum depression
"). Complications due to an oversight during a previous pregnancy are unfortunately a common cause of infertility.
§ 
Mastitis
 - persistent and potentially fatal mammary gland infection, leading to high somatic cell counts and loss of production.
Mastitis is recognized by a reddening and swelling of the infected quarter of the udder and the presence of whitish clots or pus in the milk. Treatment is possible with long-acting antibiotics but milk from such cows is not marketable until drug residues have left the cow's system.  
§ 
Unimammary syndrome
- UMS is thought to be caused by a combination of a premature introduction of galactagogue chemicals into the calf's diet and too early an introduction to machine milking, resulting in poor milking habits by farmers whereby the udders are forced together for milking by commercial machinery in an effort to cause the ducts to letdown sooner than is generally considered safe for the heifer.
young heifer with UMS
§ 
Lameness
 - persistent foot infection or leg problems causing infertility and loss of mobilty or ability to stand "
on all fours"
 as dictated by the majority of dairy **** farms.  
§ 
Production
 - some animals fail to produce economic levels of milk to justify their feed costs.
Production below 12 to 15 litres of milk per day are not economically viable.Herd life is strongly correlated with production levels.[
citation needed
] Lower production dairy **** cows live longer than high production cows, but may be less profitable. Cows no longer wanted for milk production are generally sold to new trainers that will use them as general ***** or train them for specific uses, depending upon the buyer's needs and wishes for his property.    
Reproduction
Since the 1950s, artificial insemination (AI) is used at most dairy **** farms; these farms may keep no bull. Advantages of using AI include its low cost and ease compared to maintaining a bull, ability to select from a large number of bulls to match the anticipated market for the resulting calves, and predictable results.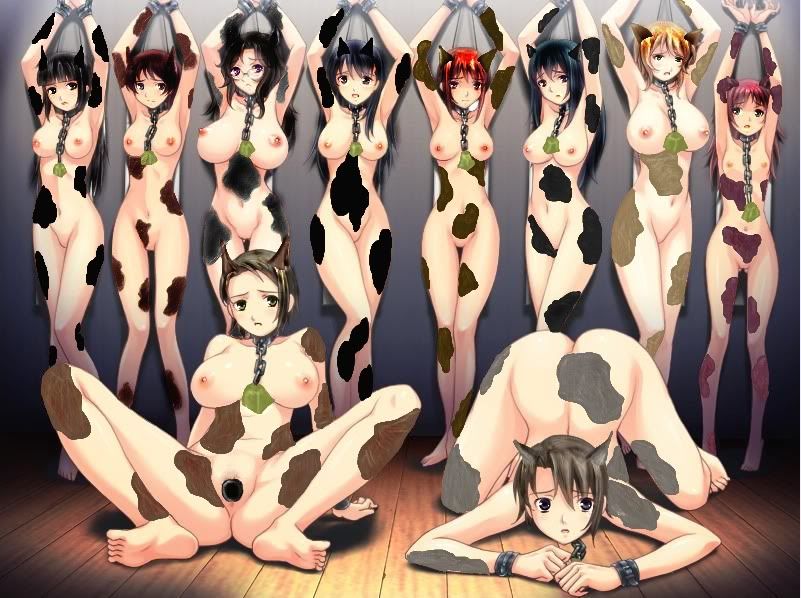 Artist's rendition of milksluts in line for the ET process  
Most recently, embryo transfer ("ET") studies are being done in order to enable the multiplication of progeny from elite hucows. Such cows would be given hormone treatments specifically  designed to force the cow  to produce multiple embryos. These would then be 'flushed' from the "
donor cow
's" uterus. Between 7-12 embryos would removed from these donor cows and transferred into other hucows who would then be forced to serve as surrogate **** mothers. The result will be an ongoing occurrence of multiple births of between 3 and 6 calves instead of the normal single, or rarely, twins.
You can join Experience Project now to respond to this story!
Login
Login to respond to this story
Sign Up