All My Life
One day many many years ago my mother revealed to me an aspect of my history that I had never known before.
She was talking about when she was pregnant with me, where she lived, stc. Then she said that when I was born, she was so certain that I was going to be a girl that she hadn't thought about many boy names for me, but many girls names. I don't know how my name was actually chosen but it was. I have also known all my life that my mother would really like to have had a daughter, another discussion from years of living together.
I wonder what made her think she was going to have a girl? This was before ultrasounds, so maybe it was an old wives tale or "woman's intuition." She talked about certian cravings (ice cream) and the way I sat in her belly. Maybe that's it. Could it be possible that she had already picked up on my feminine nature in he womb. Or could it be that this expectation is what led me to develop the way I did (nature vs. nurture)?
I know from seeing baby pictures that maybe she was right that I was going to be a girl. My room painted in bright girl colors and my clothes were pink as a baby. I did wear girls clothes through out most of my younger years and she helped me with more appropriate choices as a pre-teen and teen. Many girl clothes or at least not too boyish looking.
I guess she really got her wish though. She knew it would be hard and tried to keep me safe yet experience who I was through out all the years we lived under the same roof. I was supposed to be a girl and well, that is how I turned out. Wish she was still here to talk with and learn more.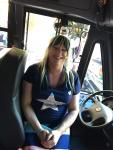 Josie06
56-60
, F
13 Responses
13
Aug 5, 2010