HELP!! Wedding Ideas!!
I feel like a story ***** when it comes to my wedding but i LOVE you ladies in put ... ok so let me elaborate .. I DONT wanna to go with any one theme for my wedding ... Im hoping to tastefully bring together many aspects of our personalities, backgrounds, herritage, etc etc... and also bring in the fact that its going to be on st patricks day
here are the staples:
-its going to be small, no more than 50 people
-no bridal party, just brandon, taylah, and i (this may change, but i dont think so)
-brandon will be in his dress blues
-This is the dress I want: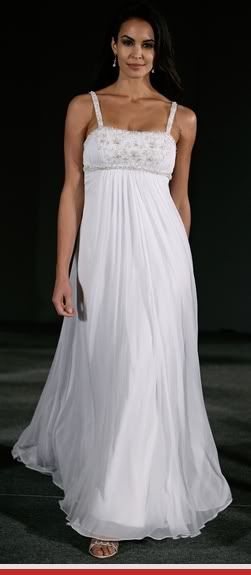 -I also want to go ethereal with taylahs dress, and hair, im thinking a beautiful halo type thing with ribbons and flowers
-I think ill tie in the "lucky" st patricks day thing with the wedding favors i think ill hit up micheals and make beaded keychains, with a four leaf clover, or a horseshoe, or something ...
a few things id like to tie in:
TEXAS (maybe a texas or lone star shaped groomscake?), USMC (we got that covered with the blues i think though, budhism (that will be covered with the vows), the luck -st pattys day aspect (the favors), Taylah - I want her to be represented because shes taking him as her dad (I think ill have her sign as a witness, and do the sand thing with the 3 of us)
Do you ladies thinking Ill be able to accomplish this with out it being tacky or clashing? ANY AND ALL INPUT MUCH APPRECIATED!!
OH and im thinking I should have it inside, like im looking outside right now and its all rainy, and cold ... theres no guarntee of nice weather at all in march ... sooo yea, im thinking of having it here:
http://www.whitechapelestate.com/pages/2/index.htm
26-30
13 Responses
0
Mar 11, 2009