Quite Possibly My Place Is With A Man
I love men and can't live without them. Yes, I'm attracted, and yes, I have acted! I'm totally into them even though I haven't yet found the right one for me to consider being in a LTR with.
Shamefull maybe ... but it is true. I have been transgender all my life ... a woman born transexual. Since the moment I first put my mother's lipstick back when I was a kid (age 5), I've dreamed of being with a man. I can get weak in the knees when I see a strong handsome and masculine man. Having a strong masculine man wrap his arms around me is just fantastic! Oh, and the cuddling! Mmmmmm! I find it all a transformational experience, bringing on all the feelings, hopes, and desires of any woman.
Yes men are fun to be with, whether .spending the night, having dinner or breakfast. It is fun to be with the right man. I have been dating men for many many years and when I am with them I can be an angel or as naughty as they come (depends on the man). It is nice to be with a good man and be his woman. Men have treated me as a woman, they were courteous, affectionate, and I loved being out in public with a man on a date. The private times were very special.
My first date was while I was in high school, and he was so handsome and he wore a suit. He was on the high scholl basket ball team and he was black. He treated me like a lady the whole time, I felt like I was a princess and very special on that first date (and or other dates). The first kiss was extraordinary, very gentle and loving. All in all, a very nice experience, and I have wanted to be with men even more since then.
I've always been attracted to men, whether I am dressed or not dressed. But yes I need my girlfriends for shopping and gossiping. As for dating, I have been in a bit of a dry spell lately. However that does not stop me from looking and wanting now.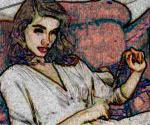 For me ... Definitely men!
Josie06
56-60
, F
2 Responses
0
Aug 5, 2010