Hooked!
I've always been interested in crafts. My step-grandma tried to teach me to crochet when I was five, but my chubby little fingers just didn't have the coordination. I didn't pick up a hook again until I was married.
My best friend taught me how to make granny squares, and for the longest time it was all I could make. I made a lot of them though! As time went on I started wanting to learn more and after a request from my mom for a ripple throw I finally started learning to read patterns.
I've been crocheting for about 10 years now and I love it. I do a lot of other crafts but I always come back to crochet because it was my first craft love.
I hope no one minds that I changed the group logo. It's an in-progress picture of a doily I made for my mother. I entered it in the county fair last year and won a first place ribbon for it :) Here's a picture of the finished project: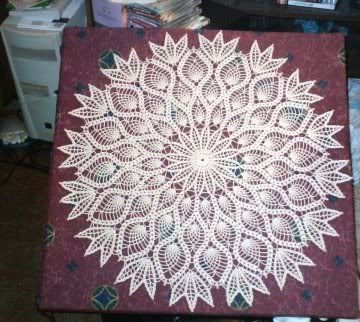 You can join Experience Project now to respond to this story!
Login
Login to respond to this story
Sign Up