Why Does the TRUTH Only Save Jehovah's Witnesses?
I grew up being taught the "Truth" was only with the Jehovah's Witnesses.  The "worldly" people will die in Armageddon because they do not having said "Truth".   I sat by my parent, 3 times a week, from infancy to teen years learning that those who didn't accept the "truth" as dictated by Witnesses were going to die violently while the Witnesses rejoiced.  My child story books were full of stories of murder, rape, animals feeding on people...all with blatant pictures of such acts.  It was normal to see pictures of people dying, holding their dead children, with smiling Jehovah's Witnesses in the fore front because it was something they were truly happy about .  I never learned to turn my head from such hateful acts, to be sensitive to these adult concepts. 
The irony in the Jehovah's Witnesses "truth" is it changes ba
sed on their clearer "understanding" or "new light" from their divine creator.  The have promised Armageddon to come 7 times now at specific dates.  They've now learned to not be so specific...it is just constantly around the corner.  That concept as a child kept me hoping for a fiery world destruction so that all the evil doers would be destroyed and I could live forever on a clean earth away from such disgusting people.  Those disgusting people, would be everyone NOT Jehovah's Witnesses, men...women...and even children.  According to them, Jehovah will not discriminate...that it is the parents fault for not teaching their children the "truth' thus they are blood guilty for their children's death in Armageddon.

They preach their name is divinely inspired, and yet they have changed it 4 times since the beginning of their organization.  How does God inspire you to change the name of your organization over and over... and yet all other organized religions manage to keep the same one for generations?

Rewriting the bible has allowed them to give "further light" into the original King James vocabulary that is old and incomprehensible from their perspective.  And yet, no other christian organization uses a different bible?  I grew up reading only the New World Translation, being told the KJV was simply outdated and not needed.  I never knew of the contradictions until I read the original bible myself.  It was shocking.  We looked down on other religions, for believing what "men" told them, and yet I was no different.  The level of fog I lived in seemed so normal. 

I watched a lady on CNN today talk about her fight to end rape in Haiti....to end the rape of women, children, and even toddlers.  She cried, she spoke of everyone's worth and how children had a right to be children.  It inspired this, because for the life of me, I can not see how a person like that deserves to die simply because she doesn't subscribe to Jehovah's Witness teachings.  If that is the "truth"....and I am predestined to die....then I prefer to die with the humility of knowing I am no better than anyone else, and that i've allowed myself to be free of teachings that only instilled how sinful I was and thus my worth would forever been low.  I will not sit in judgement of people and tell myself that some people deserve to die, I will not teach my children adult truths that are traumatic and destructive to their growth ability....and I will admire those in life who stand up against oppression in all forms because they simply respect all life.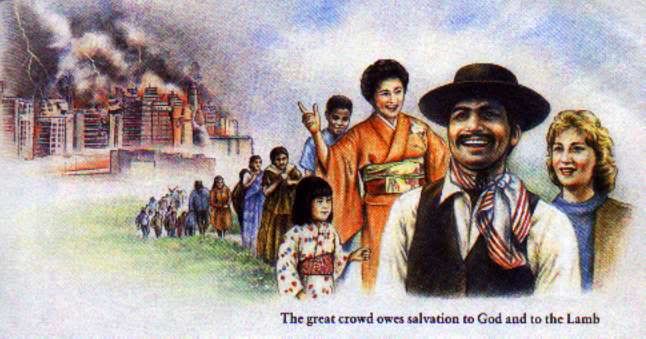 m2extreme
31-35
, F
4 Responses
3
Apr 28, 2012