He Is A Soldier.
No matter how many times I say this sentence, it still surprises me everytime. My brother signed up for the army a little over 2 years ago. He has had a difficult time since being in the army. ...These difficulties started with a 2:30 AM bed-check. You may say, this sounds normal for the army,and it ver well may be. Anyways, one of his drill sargeants came in yelling and cussing them out, and my brother, being startled to wakefulness, rolled off of his top bunk. He broke his arm in three places that night. He had 2 surgeries from it, one during which two metal plates were put into his arm, and one in which a nerver was transplanted.
He is better now though. He has passed his PT, and he will now travel to another post even farther away...and soon who may be sent to Afghanistan. I wish him all the luck in the world as he continues on to finish out his 5 years that he signed up for.
I am a proud army sister. My brother is doing something that I truly know I would never be able to do.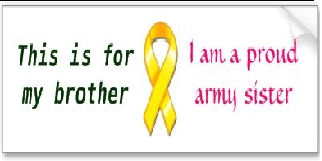 With love in my heart and faith for a better tomorrow,
-----Akaia
akaia
22-25
, F
4 Responses
0
Mar 27, 2011