Manteno State Hospital By Teresa Williams
MANTENO STATE HOSPITAL
By Teresa Williams, Small Town Paranormal Investigator
and HPI Paranormal Investigator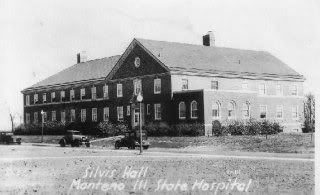 The famous Manteno State Hospital, located in Manteno, Illinois was the largest hospital compound I have ever seen! What still remains of the original buildings is incredible. Small Town Paranormal Family was given permission to explore this wonderful haunted place through Brianna Finn who graciously invited all members of the STPF to join in with her to investigate this place.
While getting a bit lost getting to this building, I had encountered a couple of locals who had eerie stories to share. First I had come across a golf course where I stopped to ask directions after going I believe several miles out of the way. I met a woman named Mrs. Lightfoot. She told me her and her daughter used to go there right after the hospital closed in the 80's and they still have some letters that she told me the staff never mailed out for the patients, and nearly every letter would contain the word "help". How sad I thought that those letters were never to reach the intended love ones.
Another local that I stopped to ask directions to, turned out to be the local mayor of Manteno. He was walking his basset hound, and was such a nice man. He had put his dog in his house and walked me a couple blocks of the compound. He told me of Earnest Hemmingway being given electroshock therapy in the Morgan building of the compound once he developed Alzheimer's disease.
The teams started arriving at 3:oo pm and the last of the teams arrived by 5:00 pm. Thus began the barbeque grills. There was a lot of eating and greeting and storytelling of experiences between 34 people who attended the event. I have to say "what a wonderful family outing it turned out to be"! I personally got to meet a lot of people I never met, but had been hearing wonderful things about. The warmth of friendship was everywhere!
I also had an opportunity to work again with a few people I had worked with before, but due to unforeseen circumstances, hadn't gotten to work with for quite awhile.
On to the roll call….
From M.M.P. was Brianna Finn, Doug Curry (contest winner).
From M.H. was Jason Sullivan. From NIPRT was Larry Eissler, Rosemary Deyerle (I hope I finally got that right Rosemary!), Russ Wells, Sandy Wells (Dark Moon Rising Radio), Teresa Williams (also HPI International). From G.P.S. was Jennifer Riggs, Jason M. Sarah Gray, Kristina Olsen, Ronald Olsen. From C.H.I.P.S. was Jim Heater, Laura Hall. From I.G.S.S. was Bob Depew, Krystal Depew, Amanda Johnston, Stephanie Labanowit, Molly Berry, Danielle Martindale. From T.L. was Teri Mosby, Tim Veihl, Stephanie Seeland. From S.P.C.G. was James Hunter, Connie Hunter. From S.T.P. was Dan Norvell, Gary Roach, Sherry Roach, Grace Jefferson, Heather Creighton, Alissa Neubauer, Craig Robertson. From C.P.S. was Marcia Mack, Linda Lampert.
A special thank you goes out to Craig Robertson for being the main chef of the night! "THANK YOU" and I am sure that is from everyone! When it was Craig's teams turn to go in, Dan Norvell took over the grill…"THANK YOU" Dan!
Experiences were everywhere in this place. The first one reported of the night was by Dan Norvell. Before the investigation began, everyone was exploring the building during daylight. At dusk, Dan had seen a shadow figure pass next to him in the doorway of the Northwest room. Sandy Wells (sensitive) was with Dan when he seen the shadow figure and said she was drawn to the same room and seen the figure disappear into the floor where Dan had seen the figure. In the Northwest bathroom, a "squeal" was also heard. Russ Wells (sensitive) said he sensed a male on male sexual attack in the Northwest room as well. Also Russ stated he felt a total of 8 spirits in the building.
Doug Curry experienced a "tapping" on the top of his head in the Northeast bathing area twice. Rosemary Deyerle had seen a shadow figure in the Northwest hall. Jim Heater had many camera malfunctions throughout the building as did nearly everyone with a camera. I myself, had gotten tired of trying to use a camera that felt like it was not in my control.
Sandy Wells, told me of seeing 2 men in the Southwest hall, one of a man in his 50's that was pacing and rubbing his hands together. The other was a man in his 20's in the opposite corner in the fetal position rocking back and forth.
Laura Hall, while in the Northwest wing with Jim Heater, heard a "pipe scraping" (metal) sound come from the Northwest side of the room, at the same moment, Jim Heater notices a window on the door entrance that had a bit of light coming through at the same moment the noise is heard, seen the light blocked for a brief second.
Craig Robertson and Doug Curry were in the Northeast room, and they were at both ends of the room from each other. As Doug started crossing the room towards Craig, he heard a scurrying sound behind him. Craig also heard this. As he continued to cross the room, they both heard the sound follow Doug as he approached Craig, and it followed them out the room.
Several pictures that were taken caught a "mist" in quite a few of them. One in particular was taken by James Hunter that showed a line of mist coming from the floor to the center of the room and then like it was bursting. I can't wait to see the pictures from everyone that was there. Those are still to be analyzed. I remember the temperature was not of freezing nor "visible breath". I am looking forward to hearing any EVP evidence that might have been caught as well.
THE ba
seMENT
Now for the grand finale! The basement is where not one of the investigators will tell you was not haunted. Everyone came from there with excitement.

Brianna Finn heard a "raspy" voice. Molly Berry and Brianna Finn heard commotion next to them, but with no source. Krystal Depew heard a female voice behind them. Molly had also felt a touch on the back of her calf. Note: Krystal…be nicer to Molly (smile)

Russ Wells said in the basement he felt a spirit of about the age of 58 and kept getting the number 1946. Marcia Mack was touched twice on the back of the thigh. She described it as telling it to touch one of the guys there, but it chose to touch her instead. The second touch was just a couple moments later that she said felt like a "firm drag" across the same place.

Once we decided we had gotten what we came for we packed up our goods and equipment, and said our goodbyes for the time. Larry, Marcia, Bree, Linda, and James… I am glad we got together and sorted out what really happened. (smile)

Everyone, it was a great investigation!
Our conclusion…. This place ROCKS! Definitely haunted!

Note: Teresa Williams is a member of Small Town Paranormal Family and when she is in California, she is also a member of HPI (Haunted and Paranormal Investigations International).
Distributed by Paul Dale Roberts, HPI General Manager

PaulDaleRoberts
51-55
, M
2 Responses
1
Nov 21, 2010