The Tool Cabinet Ghosts Of Stockton
The Tool Cabinet Ghosts of Stockton
By Paul Dale Roberts, HPI General Manager
www.hpiparanormal.net
HPI Stockton Paranormal Validation Splinter Cell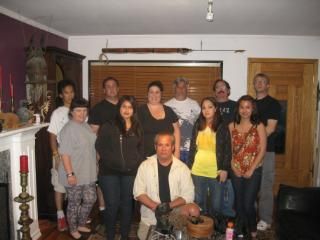 Pictures from the Investigation - Paul Dale Roberts
http://s970.photobucket.com/albums/ae185/PaulDaleRoberts55/Stockton3464/
Pictures from Investigation - Deanna Bailey:
http://s1119.photobucket.com/albums/k639/PrincessDee7974/HPI%20team%20-%20Stockton%202/
INITIAL REPORT:
Date to be there: April 28, Saturday Time to be there: 2000 Hours: Activity and History: Former female occupant died in the bedroom, then the male husband occupant slipped in the hallway and died, he was dead for a week in this house, before anyone realized it. He owned a 62 T-Bird, the occupant that now lives there also owns a 62 T-Bird. When occupant has his head near garage tool cabinets, they will open and hit him in the head. Address to be at: Stockton, CA – The occupant Billy has lived in this home since 1991. The paranormal activity started when he first moved in. Billy has also seen shadow figures around the home.
HPI Paranormal Investigators Roll Call: Matt Lopez; Sheila Rodriguez; Deanna Bailey/Lead Investigator; Jon Koyasako/Lead Investigator/Security; Elizabeth 'Lizzie' Silva/Psychic; Julia Ellerbe/Psychic; Mark Mummert; Mark Bales; Alaceo 'Big Al' Rosatano/Videographer; Paul Dale Roberts/HPI General Manager.
Before this investigation got started, this day would be extremely busy. I picked up my psychics Lizzie Silva and Julia Ellerbe in Stockton and drove them to Marysville, about an hour and a half away, so they could be on the Lori Schulz Radio Show – The Dirt KMYC 1410. I was able to talk about my supernatural adventure in Costa Rica, San Lucas Prison, Nicaragua and Panama, while my psychics talked about how they discovered that they had psychic abilities and some of their unusual paranormal experiences. After the show, we got back on the road and headed to Stockton. It's here in Stockton that we are conducting the investigation.
Tonight I took the group and broke them up into two teams. The first team is being lead by Deanna Bailey and the 2nd team is being lead by Jon Koyasako. We have two areas to cover, the backyard where the studio is, kitchen and the garage. The 2nd area is the living room and all of the back bedrooms. We will have three 45 minute investigations with 3 evidence briefings. We got started at 10pm and already we have activity, it appears we have already captured an EVP.
FIRST INVESTIGATIVE SESSION BRIEFING:
Jon's group captured two possible EVPs. EVP of a long exhale. EVP of a sigh. The EVPs need to be analyzed on Audacity to determine authenticity. There was some intelligent flashlight communication. Mark had a personal experience, he felt two pinches to his neck within a 30 second interval. Some of the investigators witnessed the bathroom door jiggling and one investigator saw the door push in. We were able to debunk the bathroom door jiggling, there is a suction that occurs with the central air being turned on. It is determined that Ground Zero is the hallway where the man died at and the bedroom where his wife died at. One other Ground Zero is the garage where the man who died, spent a lot of time at. The garage was most likely his man cave. Sheila Rodriguez is wearing a golden band ring and during this investigation, it bent on its own accord, for no apparent reason. Lizzie is feeling heaviness, but is not detecting any significant activity.
Julie, Lizzy & Lori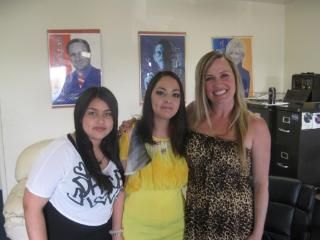 SECOND INVESTIGATIVE SESSION BRIEFING:
Deanna's group did not get any orbs. There was major intelligent flashlight activity. The flashlight communication indicated that the deceased man like to fish and he liked to dance. The occupant confirmed he was an avid fisherman, but didn't know anything about the dancing. Questions are repeated to see if we get the same answer and we do get the same answer every time (with this case). He also indicated he was with his wife. There were major K2 hits in the studio. Lizzy felt like she was touched on the shoulder. Jon's group captured no EVPs and a few orb photos. The psychics believe its Wyatt (the deceased man).
THE REVEAL:
With the intelligent flashlight communication and the possible EVPs, I believe paranormal activity may exist in this household.
Paul Dale Roberts, HPI Esoteric Detective
aka The Demon Warrior
Shannon McCabe's Haunted and Paranormal Investigations International
www.hpiparanormal.net
http://www.knighttalkradio.blogspot.com/
Managed by Staci Butler, HPI Twitter Account Manager/HPI Senior Lead Investigator
http://alldestiny.com/index.php/paul-dale-roberts/
My Bio Link at Ceri Clark's All Destiny Magazine!
Email: pauld5606@comcast.net
Cellular Paranormal Hotline Investigation or Advice: 916 203 7503
Paul Dale Roberts in Costa Rica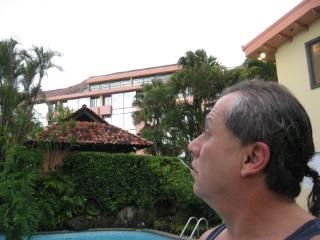 PaulDaleRoberts
51-55
, M
0
Apr 29, 2012