Possibly the Woman Within ...
Oh, all day long. Thoughts go in and out of my brain. Some saty (oh) and some go and are forgotten.
So, what it like? Just sitting around and they pop into my reality.
Some serious. Some daydreaming.
Some like this:
Others like this: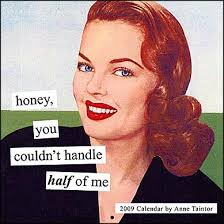 Thought are random, recurring and sometimes fleeting. Not always!
Josie06
56-60
, F
1 Response
5
Mar 26, 2009