Heart Of Hush Reaching Out To The Whole World
Hello and Welcome
I am writing this page up in the hope to let people know that I didn't created the idea/vision/inspiration to my wonderful logo titled as
Heart Of Hush Reaching out to the WHOLE world.
The reason I am writing this up is because many think that I created it and that I am just a really cocky person or big noting myself.
I am not stuck up or up myself so to speak, I am just me being me and who I am, I am no one special or of importance.
But this page of writing is about giving credit where credit is due, where so many people in today's society is just too damn scared to do.
Appreciating others, showing gratitude, making others aware and most of all saying a big THANK YOU.
The logo idea/vision/inspiration design came from a special friend who I met online oh so many years ago now who lives in Texas USA.
She saw in me what many don't, she saw what I was doing for others and it was this wonderful lady who took the time to tell me what she saw from her own vision/inspiration/spirit guide.
In her own way she was thanking me for doing what was and still is in my heart to do.
Reach out to others.
I believe she was given this vision, this inspiration for a reason and many times I have came across situations that I too understand why and I just smile humbly and I get this beautiful feeling emotion inside my belly that I just cant explain how it is but it gives me chills all over when I do actually get it right.
I am starting to understand more of her vision these past few days from my actions and achievements this past couple of weeks.
I wrote the following text years ago but I felt I needed to explain it further.
I have a story to write
This story is about a lady that I know from Texas USA, Who came up with the idea of the image you see here enclosed.
The first designed image, Mitchell my son did the below design.
The lady that came up with the idea/vision/inspiration,
Her personal website
http://crazyfeet40.bravehost.com/index.html
Her Nic name on Paltalk /
http://www.paltalk.com/people/users/Crazyfeet40/index.wmt
Singsnap
http://www.singsnap.com/snap/member/crazyfeet40
Yahoo/
http://profiles.yahoo.com/u/HQR4VIVV53WO3R7GZFTBH3WKIA
Facebook
http://www.facebook.com/people/Rena-As-Crazyfeet/585835481
As you can see her name is Rena.
Rena and myself were talking on the phone one day and she had told me of an idea/vision/inspiration of an image that she had come up with, for me.
She explained to me that her spirit guide gave her this message as follows.
She asked me if I could ask my son Mitchell to create this image she envisioned.
I asked her to write everything down for example the details of the image and this is what she had told me.
All credit goes to Rena and also my son Mitchell,
Quoted By Rena
Crazyfeet46 (9/7/2006 9:55:53 AM): here this is what I have written:
Crazyfeet40 Crazyfeet46 (9/7/2006 9:56:15 AM): Lu, A couple of weeks ago we discussed a graphic that you were going to get Mitchell to design for you.
Here were my thoughts:
Inside a large square box
1. To the left: a picture of you
2. In the middle: a picture of YOUR hand
3. On the right: a picture of the WORLD
4. Just inside the bottom of the box it would say:
Heart_Of_Hush reaching out to the WHOLE WORLD I think this would be lovely.
And it would fit you Lucy Lu to a "T".
Please let me know what you think and if Mitchell can do it.
God bless you and yours,
Sincerely in Christ, Rena Crazyfeet40 Crazyfeet46 (9/7/2006 9:56:34 AM)
That was the information that Rena sent to me
If your wondering why Rena calls me Lucy Lu, its after one of Charlie Angels, I guess I am just a tad like her in personality and character.
I can be ornery and fiesty when it is needed.
As you can see the image made by Mitchell is not exactly the same as her idea but we did try adding a hand reaching out to the world but it didn't look right so we did the image as you see above.
Rena came up with the idea of this image for me and my son Mitchell is the creator so as I had said before all credit goes to both of them for a wonderful creative image.
Now I am adding this information, as luck would have it I was creating another website and the lady that helps me with the website graphics is Nightwings, http://www.nightwingsgraphics.com/categories.html
http://www.nightwingsgraphics.com/
Well in between my emails with designing this new website the thought, the vision came to mind to ask this special lady named Nightwings if she could create what my wonderful friend had designed, so I sent her the above text from Rena aka Crazyfeet40 and you will see what she came up below.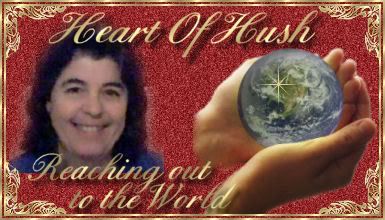 I had tears in my eyes and chills in my body when I saw the images Nightwings emailed back to me.
It was like Nightwings got it just right.
I then showed Rena aka Crazyfeet40 and Rena told me that Nightwings made it just absolutely perfect and exactly how she saw the image in her vision/inspiration of me.
So as you can see the final design and how Rena's vision/inspiration/dream came to be visible and true.
You see Dreams and Visions do and can come true, but you have to work at it, first you have to really LISTEN to what you are being told and then be OPEN to receive the messages like Crazyfeet40 aka Rena was LISTENING and OPEN too.
Rena also came up with my room name title on paltalk which was at the time
Heart Of Hush and Her Featured Performers InConcert.
I thank Rena and my son Mitchell and for the first image and then the final image by Nightwings Graphics for the creative design and image they all made for me.
I do appreciate and I am very grateful that Rena had this inspiration, vision and that Mitchell my son created the first design and then lastly Nightwings made the end result of this vision,
I have to say I am very honoured and proud to use this design, this inspiration for many reasons.
They are as follows
I was given the heart and soul to actually reach out to so many people from all over the world.
I was given the gift to be able to do what Crazyfeet40 sees in me.
Please don't judge me badly for doing good things for others, it is what I have been asked to do and I am damn well going to keep doing it till I die.
I am LISTENING and OPEN to the messages given to me, to do what is asked of me by so many, from who exactly I don't know but I feel they have come from many good and wonderful sources.
By sources I mean from any of the following
God gives me help everyday and teaches me what I need to know without having to read the bible.
Angels encourage me and support me, they tell me when I got it right in their own way of letting me know.
I also have what I call spirit guides, I have just so many messengers its hard to know who is who and to give each a title or label as today's society expects.
The Universe seems to guide me as well
Native American Ancestors teaches me ways I never knew.
Up to approx 10 Old Souls from all walks of life and professions.
All of the above have taught me to create, think, act upon, stand up for those who cant or choose not too, or to those who are scared too, they taught me make websites for people, to write like I am doing right now and for a purpose, they have put me through situations to understand others like being bullied online and many more.
They have taught me so much about how people really are and it really does sadden me.
I guess there is a reason for it and I will eventually find out or it will be the death of me in the end.
They have sent me on what I call wonderful adventures or assignments kinda, that just touch your heart and soul and many times have brought tears to my eyes and my heart.
I now understand them a lot better and I am happy with who I am, I am glad to be able to help the few that I can help with whatever it maybe, even though every single one of my family member chose to walk away from me because of who and what I am.
If only they new…lol
Please don't think of me as a crazy person or mental because I surely am not.
I am just different like the rest of the world; we are all different and gifted in our own ways.
I will write and create my achievements and my appreciations and gratitude very soon.
Because it came from my wonderful friends thoughts, visions of me.
It is people and assignments like Crazyfeet/Rena and Nightwings that makes all that I do for others even more pleasing because they appreciate the good in what you do and they don't look for the bad.
Both My son Mitchell and Nightwings made the image for me.
The idea of the image is copywritten to Crazyfeet40 aka Rena ©Copyright 2006. All Rights Reserved.
The graphic design is copywritten to Mitchell Peters ©Copyright 15th April 2007. All Rights reserved.
The graphic design is copywritten to Nightwings Graphics ©Copyright 10th June 2008. All Rights reserved
http://www.nightwingsgraphics.com/categories.html
DO NOT REPRODUCE ANY PART OF OR FULL TEXT OF MY WORDS IN ANY SHAPE OR FORM,
THIS ALSO INCLUDES THE ABOVE IMAGE...."DO NOT STEAL WHAT IS NOT YOURS.
THIS IS "MY INTELLECTUAL PROPERTY" AND "MY COPYRIGHTS",
ALL THE ABOVE WRITINGS ARE MY WORDS EXCEPT WHERE QUOTED.
©Copyright 2007 Mrs. L Peters aka Heart Of Hush All Rights Reserved
I am not a writer but this is as best as i can explain it.
Thank you
http://www.heartofhush.com/Heart_Of_Hush-Reaching-Out-To-The-WHOLE-WORLD.html
heartofhush
51-55
, F
0
Jul 23, 2010