New Year - Being Me
Since September I have really been trying to live out each day with a thought at the forefront of my mind: Am I BEING who I truly Am?  
I put on hold the question of what to do, and instead try to focus on who I want to Be.  
I have tried this in the past with the idea that it would make this marriage better -- but now I see I do it for me and me alone and whatever comes of that will come of it.  
When I am truly BEING "ME," it is quite clear this life doesn't fit.  He doesn't fit.  This, in the past, is what caused me to slip into a coma-type state of existence, as it's not easy to truly be yourself if nothing in your life supports that.  However, as I roll along here into the new year, more things in my life ARE supporting this true version of myself, so I see more success in the coming months.  
It is true we have to "find" ourselves -- and then we have to BE that person.  Wholly.  As we do this, life kinda plays out as it may and we don't have to force so much, right?  I know I still have some very adult-like, hard decisions to make, but I am starting to trust it will be okay as long as I am genuinely being me.  It is not always easy - when I am stuck home on the weekends/holidays, I temporarily forget, still, and that is when restlessness settles in, panic, anxiety. (This is when you will see my crazy posts here on EP!!)   But then I receive a reminder somehow -- a friend, something I read, etc., and I am brought to peace again.  Here's what did it for me this morning --- 
Parker J. Palmer is an author who I credit snapping me awake with his book "Let Your Life Speak" years ago.  This quote in particular:  
"Before I can tell my life what I want to do with it, I must listen to my life telling me who I am."
  Anyway, This is from him.  I find it beautiful and uplifting as we head into a New Year:  
"Here's a poem by Anne Hillman that offers wise guidance for threshold-crossing. As 2013 unfolds, I'll be asking myself a few questions that flow from the poem: • What does it mean to dare to be human? • What does it mean to be vulnerable to the beauty of existence? • What does it mean to learn to love, and never stop learning?
If we can "live the questions" at the heart of this poem, the "something new and better" we hope for is more likely to be born. Happy New Year, friends! May 2013 be a year full of life and light for you and yours!"  Parker J. Palmer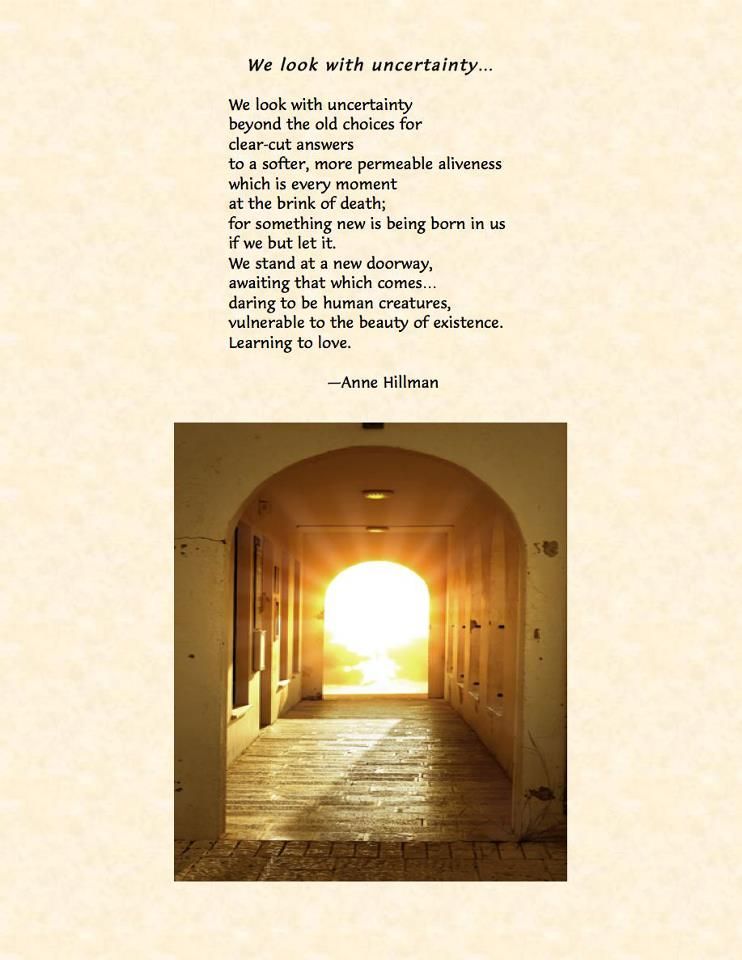 Here are the words for the poem incase your eyes just can't pick them up from the image:  
"We look with uncertainty
Beyond the old choices for
Clear-cut answers
To the softer, more permeable aliveness
Which is every moment
At the brink of death;
For something new is being born in us
If we but let it.
We stand at a new doorway,
Awaiting that which comes …
Daring to be human creatures
Vulnerable to the beauty of existence
Learning to love."
You can join Experience Project now to respond to this story!
Login
Login to respond to this story
Sign Up