I Was Waiting Until I Was Ready to Write This,,,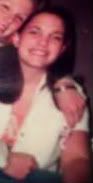 A Dedication To Maddie
1986-2003
(My friend, My Sister, My Angel)
Ok this is probably going to be a lengthy post…So you've been forewarned. This was the first experience I ever added to my profile…but I have never been able to share my story… I will give it a shot now. Seems like I can only write about the deep issues, early in the morning…When I haven't had any sleep…It's easier, I think. Because after I get this out. I'll be out, It's just too emotionally exhausting to relive...
I lost my best friend to suicide. We we're inseparable. We had a bond of blood sisters. I never had any siblings, and I considered her family. I met her in 1st grade. She was there for me during my toughest times…during and after my parents divorce, My grandfathers illnesses, My mother's near-death automobile accident…Through all my lows.
I'll skip.. to High school. We both started out in high school on the athletic teams, in the school choir…
We both fell into the party/drug scene as freshmen, and we changed for the worst…We had our fun times, but it was all pretty self-destructive. She was diagnosed with bi-polar disorder, She was also a cutter. I get chills while writing about her…as if she is over my shoulder reading this…I can almost feel her presence.
Skipping to my junior year in High school, I went to a Tech. school for Sports medicine and physical therapy. So we were in different schools. I was hardly ever in school, I loathed it! I would not show up for weeks. Eventually, I dropped out. After I had dropped out of High School. I went from being super social, popular, the life of the party.. to alienated, loner, anti-social.
I isolated my self from all my friends (including Maddie) I just wanted to get away from everyone.. I was on a road to hell…and I just needed to get my life on track, and focus on me. And that meant staying away from all my old friends…that led me into temptation. I wanted to get away from that scene, even if that meant being alone. A lot of my friends reached out…but eventually stopped trying. A lot of them never knew what happened to me. I went from always being on the scene to disappearing. A lot of them thought I was in jail, rehab, or I was dead.
During this time of trying to help myself… Maddie tried to reach out to me. She sent me a letter…Little did I know that this piece of paper would be the last time I heard from my best friend. I want to share this letter in my story, I want to write it out. No one has ever seen this letter but me and her. I never shared it with anyone. It is very personal and sacred to me. Although, it made me feel guilty for MANY years…and I'm sure when I read it again…the guilt will come back…but I want to get this out. I've been to a few counselors who could never help me with this…
I will find the letter in my old folder…She was 16 when she wrote this.
**I have decided upon writing this, not to share the letter…I've decided it's better to leave that sacred, between just us two* …SORRY
She was crying out for her best friends help, and I wasn't there. It's not that I deliberately didn't get in contact with her. I wrote her many letters, but never sent them. I was a wreck myself! How could I save anyone, when I couldn't even save myself? I was on the brink of suicide too…We always went through everything together. We should of got through our depression together. I felt like I was being SO selfish…
It's normal for anyone to loses a loved one to suicide to blame their self… They say, "If I would of done this…If I could've done that, maybe I could of saved her."
But this wasn't her first attempt…
I miss her SO much. When she died, I felt like I died. I will never be the same. Everyone that has met me after her death…knows a completely different Anna, than I was before her death…It changed me in SO many ways.
She was on 4 different anti-depressants and she was also doing drugs, and drinking with them. She wasn't in her right mind, when she did it. I truly believe that she thought someone would find her… She hung herself from a metal pipe…in the basement/laundry area. She did it with her whole family home…
If she really wanted to die…why would she do it when everyone was home? Her little sister came down stairs…and witnessed the horror. I can only imagine that, that vision will haunt her the rest of her life.
Her dad rushed down, and cut her lose from the pipe. I don't know what her condition was at that point. But they life flighted her to Children's Hospital where she remained in intensive care, hooked up to machines…that kept her barely alive. She was gone… Mentally. The doctors said…There was No brain function…That she was a vegetable.
I found out about her suicide via a voice message on my home answering machine. The girl that left the message..I didn't trust, She was a known compulsive liar. So when she left the message on my machine, that Maddie was dead. I thought it was a sick joke… I was furious. I couldn't' believe it. My mind was unable to fathom such news. From there on out a lot of things turned into the blur of SHOCK. I found out it was true...
I got a call from the hospital… A bunch of classmates were there, they said that Maddie's mother was asking for me, and wanted me to come up to the hospital. I tried to go…but I couldn't. I couldn't face seeing her that way… I couldn't bare it. I wish I could have been there for her mother and family… All I did was cry and pray…cry and pray… Days went by… I wouldn't eat, sleep, talk. I just cried and prayed. Until, I felt it…before I even got the call… I knew she was gone. We had such a connection, such a bond. I just knew. They took her off the machines, and let her go with the Lord.
I could barely go to the showing…It was the hardest thing I have ever had to do, in my life. It all felt like a dream. I was still somewhat in the denial stage. I thought just maybe this was all a hoax…and she was going to pop out with that huge smile and attack me with a BIG hug, like she always did. I found out this wasn't going to happen when I saw her baby sister. She came up to me in the line. She was being SO strong…I held onto her tightly. I don't remember much of the exchange… because there were so many people hugging her.
One of Maddie's Aunts grabs me out of line…and say's "you must be Anna, I've heard so much about you" Maddie had tons of friends there…but everybody knew me as her BEST friend. Someone hands me a big photo album that was found in Maddie's room. It was a photo album she had made…of just Me and her. It was a scrapbook of sorts…It had cards, letters, pictures, all our memories. This was all too overwhelming.. I was praying the whole time I was there, to make it through. I nearly fainted…
My mother was there with me, for support…But also, Maddie was like a daughter to her… My mother cry's at the littlest things…She is VERY sensitive..SO she was a mess. When I got up to the casket Her mother was at the head of the casket…She was hugging people and they gave their condolences. She wasn't crying at the time… Until she saw me. She saw me and she grabbed me SO tight and she lost all composure, that's when I lost it. There was a huge line behind me…of people that came for the showing…but I was up there with her mother, her older step-sister, and OH God her little…niece.. Broke my heart,,, It's hard to write this..(I knew the waterworks would come while writing this.) Her little niece was holding Maddie's hand in the casket..she just kept patting it..and saying "Maddie's gone to heaven"…So sad.
Once I got up to the casket I could feel Maddie's embrace. Her Mother could feel it too. Her mother said; "She doesn't want to let go"…(crying) and she didn't..she didn't want to let go of me.
Her mom sobbed in my ear, and was saying.. My baby, my baby… Why? Why? I felt like there was absolutely nothing I could say to her in that moment. But I know she was glad I was there…she just held onto me. Her older sister turned to me and a bunch of Maddie's classmates and Said "Don't ANY of you ever do this..you hear me! All these people that are here for Maddie, they'd be here for you too, Maddie didn't' realize, how many people loved her" She said; "If any of you ever feel like doing something like this call me…day or night"
Once you got a little past the casket, there was a picture of Maddie blown up. It was her prom picture.. One of the last times I saw her, She had shown me that dress…It was beautiful! I was sooo overwhelmed. I hadn't seen her dad anywhere. I was just about to leave, but somebody stopped me and said, "NO, Tim really wants to see you." I saw her Father in the hallway. I was probably closer to him than anyone in her family. He was kind of like a father figure to me. He hugged me and tried to talk to me and keep his composure…I could tell it was really hard for him to see me, knowing how much Maddie loved me, and I loved her.
He told me something that I will never forget, Something that Maddie had told him. She told her father "No matter how long Me and Anna go with out seeing each other, it could be 20-40 years..She will always be my BEST friend" He told me this…because he knew that we had drifted a part a little bit, but he was letting me know that it didn't matter…that we had a bond that would tie our hearts together forever. When he told me that he started to cry…and he walked away…
The funeral…I don't want to go into it all. I didn't know if I was going to be able to make it there. But I knew I would forever regret it if I didn't go. Still, the hardest thing. I was one of the last ones in the small church…It was full…every seat…people were crammed in standing on the sides of the walls. When I walked in, as soon as someone saw me…they whispered to the person next to them. I felt pretty awkward…because it seemed like everyone was looking back at me.
I stood all the way in the back of the church, against the wall. Wearing my sun glasses.
The girl, who left the message on my answering machine telling me Maddie was dead…walked me up to the casket to say my last goodbye. I had an envelop of a letter I wrote, along with a couple poems, and MY half, of our Best Friends necklace. (ohhh my heart is aching)
No one seemed to be hugging the family after they went to the casket… They were in the front row. I did. Her little sister had kept as strong as she could during the showing…but she was crying uncontrollably at the funeral. It was an open casket…it didn't look like Maddie at all, and that is not the image I keep of her. That is why in hindsight…I'm glad I couldn't stomach going to the hospital. I wouldn't of wanted to remember her that way…
Then it was to the grave yard for the burial…This was a VERY small town.. The graveyard was right across from our Middle school…The school before everything changed…We were the closest at that school, and had some of our fondest memories. The graveyard where she is buried is where are PE teacher made us run our mile. We would run laps around that cemetery.
I prayed the whole time that I could just make it through this dark day…I didn't stay around after they put the casket in the ground.. A lot of people came up to me…
I was kind of in my anger phase… I didn't want to hear what her "so called friends" had to say to me.
One girl grabbed my arm…we put a flower on the casket, then she kissed the casket(she must have been Catholic)
Maddie had joined this church before she died…She joined the youth group and was a leader…Just like me, she was trying to get out of the tangled web… she got caught up in…. She was trying to get herself back, away from the drug scene.
It's been a long process, dealing with her death. Like I said before when she died…My future died. We had planned to do So many things together after high school. It was our senior year. We had planned to go to California to be on the Price is Right, lol
We planned on getting an apartment together. We both talked numerous times about going half on a boat…We would spend countless days at the creek…fishing..walking..talking...
We were both at peace and at ONE with the water. She was my life. I wanted to die with her. We had been through everything together. I thought "We need to be together" 6 years later… I still feel the same. We need to be together… I still feel lost with out her. I will NEVER have a best friend like her.. No one can take her place…She is still alive in my heart.
After her death…I had SO many realistic dreams…That she was buried alive. I had dreams that she faked her own death. My dreams were SO real that when I woke up I really thought she was ALIVE, and that I dreamed the whole thing up. It was So real that these feeling and thoughts would last for days. I really believed that she was still alive, and it all was just a bad dream. She has come to me in dreams many times. Not recently though. But she probably will now, that I am reliving all this.
I'm looking at a picture of us, right now. Her pretty brown doe eyes…her cheeks, her smile. We were so happy together. I'll never reach that kind of happiness again. I think I better stop… I don't want to get on my kick I get on when I talk and think about her to much…It makes me want to join her. I am still overcome with guilt for hibernating, and not visiting her family, and being there for her little sister. Because I know if it was me, She would have been there for my mother, she would have checked on her…and came around. I haven't seen or talked to her family since the funeral. I'll go to her grave on her B-day, The day she passed(March 11th), and on Christmas. It was too hard to keep in contact with her family…especially when I am NOT completely stable, myself…..
The poem I put in her casket is by an Unknown author. The title is "If Tomorrow Starts Without Me."… (Oh now that I looked it up. It seems they might know the believed author to be, David Ramano)
When tomorrow starts without me,
And I'm not there to see,
If the sun should rise and find your eyes
all filled with tears for me,
I wish so much you wouldn't cry
The way you did today,
While thinking of the many things,
We didn't get to say.
I know how much you love me,
As much as I love you,
and each time that you think of me,
I know you'll miss me too.
But when tomorrow starts without me,
Please try to understand,
That an angel came and called my name,
And took me by the hand,
and said my place was ready,
In heaven far above,
And that I'd have to leave behind
All those I dearly love.
But as I turned to walk away,
A tear fell from my eye
For all my life, I'd always thought,
I didn't want to die.
I had so much to live for,
So much left yet to do,
It seemed almost impossible,
That I was leaving you.
I thought of all the yesterdays
The good ones and the bad,
I thought of all the love we shared,
and all the fun we had
If I could re-live yesterday
Just even for a while,
I'd say good-bye and kiss you
And maybe see you smile.
But then I fully realized,
That this could never be,
For emptiness and memories,
would take the place of me.
And when I thought of worldly things,
I might miss come tomorrow,
I thought of you, and when I did,
My heart was filled with sorrow.
But when I walked through heaven's gates,
I felt so much at home
When God looked down and smiled at me,
From His great golden throne.
He said, "This is eternity,
And all I've promised you."
Today your life on earth is past,
But here life starts anew
I promise no tomorrow,
But today will always last,
And since each day's the same way
There's no longing for the past.
You have been so faithful,
So trusting and so true.
Though there were times
You did some things
You knew you shouldn't do.
But you have been forgiven
And now at last you're free.
So won't you come and take my hand
And share my life with me?
So when tomorrow starts without me,
Don't think we're far apart,
For every time you think of me,
I'm right here, in your heart.
** The song in this Group, is AMAZING...Whoever posted it! That song came out about a month after Maddie passed. Good Charlotte "Hold On" that song really helped me through, man**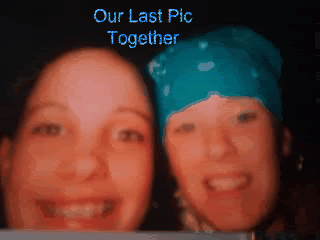 QueenOfHearts
22-25
, F
30 Responses
16
Oct 1, 2009