Drowning of Marzanna
Drowning of Marzanna (frost maiden)  is an old pagan custom still very popular in Poland and practiced on the first day of Spring. For our ancestors, the custom was associated with the everlasting rhythm of life. It expressed their joy at the coming of spring, which meant a rebirth of nature, promising crops and abundance. The Marzanna was a representation of winter. She was prepared as a doll made out of straw and sticks and was carried by villagers from house to house to eventually be thrown into the river to symbolize the end of Winter. 
This ceremony would be probably long forgotten if not an attempt to restore old pagan habits in place of Christian tradition by the communistic government. It was a great thing to bring back.  Every year at school, we made a doll from old grass, small tree branches, then on the first day of Spring we marched to the river and with great joy threw our Marzanna in :)  
Decades later and at the other end of the world,  on the  first day of Spring i still carry my willow branch frost maiden down to the stream and as i watch her float away i feel a deep connection with my ancestors and with the millions of people in the Old Country who are now celebrating the end of Winter in the very same way.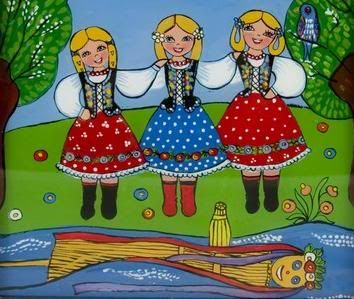 trailguide
36-40
, F
10 Responses
1
Mar 19, 2009