Bump It! Like It's HOT! 5 Celebrity Hair Catastrophes
Since Sir Mix-a-Lot's "Baby Got Back," curves have been celebrated but recently there's a different 'bump' that's getting all the attention.
The 'bump it,' appropriately named, is a new contraption which is meant to be tucked under the crown of the head and then covered with hair, creating a 'bump'.
It promises to take you from a bad hair day to a fresh-from-the-salon look in less than a minute.
Since when did having an awkward bump protruding from your head become so glamorous? Who ever thought we'd see the day when overly teasing your hair meant 'going natural'?
For 'special' occasions when you need a little more bump, there's the 'Hollywood Bump', which produces hair that can only be describes as something in between the Elvira and Marge Simpson doo.
As far as I'm concerned 'Bump It' needs to issue a public apology for some of the hair catastrophes it's encouraging!
1. Amy Winehouse

2. This Lady
High Fashion SHOULDN'T Equal High Hair

3. Scarlett Johansson

4. J-Lo

5. Sarah Jessica Parker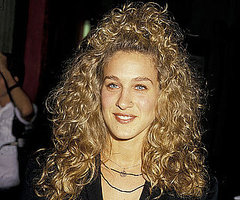 I spot the 'Bump It' in use, everywhere I go. The bagger at my local grocery store-she bumps it. The teenager who hands me my coffee on my way to work-she bumps it. Me-I'm still on the fence about giving it a try but could use your help! Am I being fashion forward or heading for a fashion disaster?
Ladies- What do you think of this new must-have hair tool?
Time to confess: Have you bumped it in the past?
Men- I want to hear your comments too! Does it work to attract the opposite sex?
starchedcookies
18-21
, F
48 Responses
21
Oct 1, 2009