Oh No Not The Attic.....
Mary has been in the home now for three years never to return to her home , alone in her own little world oblivious to her surroundings content in her believe that she is once again a child at home with her mummy and daddy such a cruel situation for a seventy three year old . Jim well he broke his hip falling down the stairs in that big house himself my wife and her sister found him behind the door the week before we went on our holidays and he remains in hospital . Since I have no starting date for my new job the task of clearing out all the crap which has taken them a life time to collect now to be sold our given to charity.
With a certain trepidation I climbed up the two sets of home made stairs inside the cupboard armed with my ipod and a roll of bin bags to begin the task of debunking . First the wall units containing its jars of mince meat and homemade jams,tins of salmon ,soups of every variety ,flour ,sugar,tea bags and just about every kind of spice one could think off. Once the ingredients in the pies and cakes of Marys baking's days . Now out of date by neither weeks or months but years and years all those two for one,s and other good ideas now destined to be bagged and dumped. This took till lunchtime so I sat on the floor looking around at the size of the task in hand this will take weeks I thought to myself as I sat eating my sandwich,s my attention drawn from book shelves full to the tool cupboard the large heavy oak double wardrobe stuffed full of belongings from not only this generation but from their parents and even some from their parents . Lunch break over I started with one of the suit cases on top of the wardrobe I sat down with it on my knee and opened it .
Inside it was full of old newspapers depicting events in our city our nation and events from abroad as I started to look through them first up Diana,s death , the two towers, Lockerbie , the Yorkshire ripper , Ibrox disaster and other events recorded by the broadsheet and tabloid alike .
Next up took my breath away !!!!
The Daily Mirror 16th April nineteen twelve reporting the sinking of the Titanic .
I wonder what other little gems of history I shall uncover .........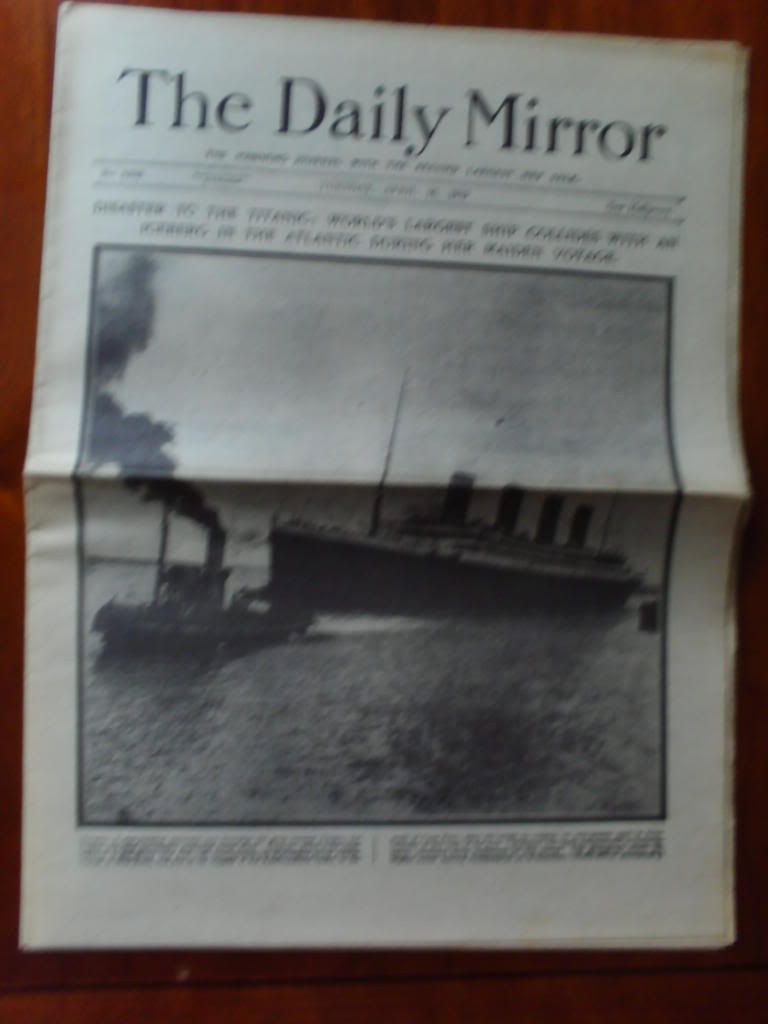 salar1
51-55
, M
4 Responses
2
Aug 3, 2010