Spyderco Para Military
Spyderco Para Military came in the mail!
I got this one for myself. I have the larger Military Model but wanted a smaller blade for actual use. The Military Model is more of a tactical knife.
(Actually, for a civilian "tactical" knife I recommend several good Steak Knives. They come in little lit weight cardboard sheaths that can be taped on to your arms, legs made into a necklace. Good enough for a one time use and cheap. Lol.)
I have attached a review… Welcome the Para-Military, a two-thirds sized version of the Military Model. Its flat-ground S30V blade stretches a non-eyebrow raising 3-3/32" (81mm) long and has a carbon level of 1.45% with the addition of vanadium and nitrogen for over-the-top edge retention. Coated in black, the blade is subdued and non-reflective. The Spyderco Round Hole is generously sized at 14mm for opening the knife blade with gloved (or large) hands. Its black G-10 handle shuns chemicals and temperature fluctuations and expands at the butt-end keeping the hand from slipping off the handle while making hard pulling cuts. The package is topped off with a nested Compression Lock making the ultimate mid-sized survival knife designed to level trees, carve tent stakes and never generate a second glance.
---
Materials Specifications Warranty Information Handle: G10 Overall Length: 7.88" Liners: Stainless Blade Length: 3.09" Warranty Information. Blade: CPMS30V Handle Length: 4.79 Blade Finish: Black Lock Type: Compression Lock Blade Style: Clip Point Opener Type: Thumbstud Edge Style: Plain Weight: Carry Type: Pocket Clip
Spyderco Para-Military G-10 ~ C81G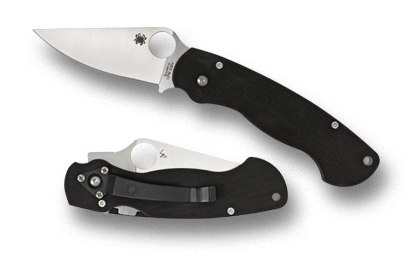 Dewduster
66-70
, M
2 Responses
0
Mar 17, 2009