10 Years On Since Nascar Changed Forever.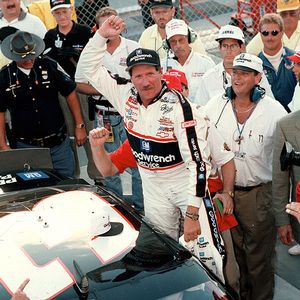 Do you remember where you were?
It is the question people ask when you remember someone famous who died so suddenly and unexpectedly.
It is a day I will never forget and haven't got over to this day. What is it about being human that makes you miss someone so much, even someone you only had 5 minutes with but it left that much of a mark on you that life never seems the same once they have gone.
Even writing this I am having to control the tears as I remember one of the few people I actually looked up too and respected. I collected everyone of his diecast cars, hundreds of them including all the expensive rare ones are still in the original boxes in my loft and I still watch the TV interviews and DVD on his life. I walked around proudly in my replica jacket I bought showing I was a fan of his.
When I met him straight away he had my respect. Not because he was a bloody good driver but I watched him take time to sign autographs and have photos taken with the fans. The media where shoving mics under his mouth to hear him speak and he did it all with a smile and a reflection from those trademark sunglasses.
As he walked down pit lane other crew members would stop what they were doing and just look at the man that's how much respect he had.
I watched him get into his car, put on his helmet and he gave me a wink. He knew that he was the best of his generation if not of all time and that car fired up and he left.
Of course I'm talking about Dale Earnhardt. The man in black. No matter what you thought of his racing tactics you always wanted to know where he was on the track in relation to your favourite driver.
Most drivers only looked at the bumper during his time as champion and if they couldn't see him they felt him as he pushed them out of the way getting them 3 wide or into the wall.
But it wasn't just the racing that made Dale loved by so many. For many he symbolised the American dream. Starting from working on his daddy's cars to ruling one of the hardest motorsports in the world Earnhardt stopped at nothing and drove himself into the record books matching Richard Petty's 7 Winston cup titles.
The blue collar worker, the simple man on the street could relate to Dale with his charging attitude and hard work. If Dale wasn't working on his farm he was with the family or at the track with Richard Childress forming one of the most famous partnerships in racing.
All the drivers looked at Earnhardt for advise including the France family who run and founded NASCAR, Dale always had a view and it was sort after by all.
But suddenly 10 years ago it all changed at Daytona the place where Earnhardt had struggled for 20 years to win the biggest race in stock car racing. He had won more races at Daytona than anyone in history but the 500 was all about heartbreak and woes until 1998 and arguably the most famous day in NASCAR history as finally the famous number 3 black goodwrench Chevy crossed the line in first place to unprecedented scenes of celebration from the moment he drove into pit lane.
But as Michael Waltrip was winning for Earnhardt's team in 2001 the car number 3 crashed in turn 4 and the world of motorsport changed forever. NASCAR had lost its superman and one of its greatest drivers in full view of the cameras at its biggest event. The shockwaves when Mike Helton announced Earnhardt's death are still felt to this day and little did we know but it started the change in safety we see today in stock car racing at the highest level.
The drivers helmets were changed to full face and the Hans device bought in to stop the violent head movement during a crash. The safer barrier was included around the tracks and designed to take the impact of a car hitting it at 200 mph.
The car of tomorrow quickly became the car of today with a larger drivers seat protecting the head on both sides and a driving position moving the driver nearer the centre to protect from side impacts.
Bumpers equal in height front and back on all cars to make the pushing in the draft safer and many other features on the cars have meant that today's racer is safer than ever.
But did it really have to take losing the symbol of American stock car racing to make all this happen? Maybe all of this was going to happen anyway but when Earnhardt died the sport had a duty to do all it could to make the racing safer but still exciting.
If I had my way I'd get rid of the restrictor plates on the super speedways and just let the cars go for it as they did back in the day. But with crowd safety just as important as the drivers I don't think we will see it anytime soon.
This year's Daytona 500 will be a very emotional occasion for racers and fans all over the world as they remember one of the greatest drivers who ever graced this planet.
Daytona is a very different place today from when the men raced on the beach and then around the speedway in the family sedan. Cars are designed on computers and are built for racing not straight dead fast out of daddy's garage.
As the years roll on and the faces change, records will be broken and new champions will make their mark on us but for many one man left his mark because in truth we all wish we could have driven like him but just were not good enough.
Sunday's haven't been the same since the black number 3 stopped thundering down the track but thank god for memories and videotape so we can show future generations just how good a driver Dale Earnhardt was and prove that if you want something bad enough you can get it and live the dream.
I'll leave the last words to Richard Childress:
"I lost my best friend"
"the world lost the greatest race car driver"
raiderofdreams
36-40
, M
1 Response
3
Jan 10, 2011