If You Think You Know It All About Owls
Have I got a story for you!
The book is Wesley the Owl, The remarkable love story of an owl and his girl.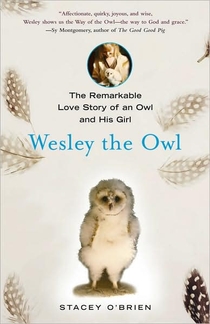 I collected owls for many years, more than 100 of one kind or another. The collection dwindled but my curiosity persisted. In recent years eating regularly and acquiring friends at a diner called the Green Owl helped me over come my grief when I lost a wonderful dog named Moon Shadow.
On a recent trip to the library I noticed this book and thought, "this must be wierd" but checked it out anyway. Wesley is a Barn Owl and they differ from the other owls. Wesley was injured and adopted by a biologist working at Caltech. The owl could not be returned to the wild due to his injury but he provided a wonderful study of Barn Owls and initiated a nineteen year friendship with Stacey O'Brien.
If you like animals it's a great story.
aftermath
61-65
, F
1
Feb 20, 2009