Pixar's First Movie Andre & Wally B
Many people think Luxo Jr. is the first Pixar animated film (see below), but it's technically the Adventures of Andre and Wally B, produced while the soon-to-be Pixar crew was still at Lucas studios. Watch this and ask yourself--can you believe this was made in 1984!?! Then read on for the back story and video comparisons to the modern day Pixar.
The Adventures of André and Wally B. is an animated short made in 1984 by the Lucasfilm Computer Graphics Project, which would later be spun out as a startup company called Pixar. Although it is technically not a Pixar short, the animation was by John Lasseter, who was working on his first computer animated project and would move on to be a pivotal player at Pixar. The credits for the piece are concept/direction Alvy Ray Smith, animation John Lasseter, technical lead Bill Reeves, technical contributions by Tom Duff, Eben Ostby, Rob Cook, Loren Carpenter, Ed Catmull, David Salesin, Tom Porter, and Sam Leffler, filming by David DiFrancesco, Tom Noggle, and Don Conway, and computer logistics by Craig Good.

The animation on the feature was truly groundbreaking at the time, featuring the first use of motion blur in |CG animation. Lasseter pushed the envelope by asking for manipulatable shapes capable of the squash and stretch style, as earlier CG models had generally been restricted to rigid geometric shapes.

It was rendered on one Cray X-MP/48 (where 48 stands for 4 processors and 8 million words of internal memory, with word size of 64 bits (i.e. 8 bytes) it means its RAM size was 64 MB) and ten VAX 11/750s from Project Athena.
Credit: Wikipedia
here's Luxo Jr., which was the first to be released by the newly minted corporate entity Pixar (this is why there's a bouncing lamp in their logo now):
And for comparison's sake, take a look at the Pixar Superbowl trailer for Wall-E, their newest film...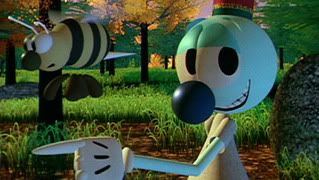 videodemon
26-30
, M
2 Responses
2
Jun 28, 2008