I Need A Hug Bad...

Today I woke up with a Headache from hell. I was up all night basically crying, thinking about things going on in my life.
All i want is a Hug, A Hug Reasures me that everything will eventually be okay, that I am not alone in dealing with all of this crap.
Arms wrapped around me, and the feeling of being Loved and protected. I want that feeling more than anything in the world.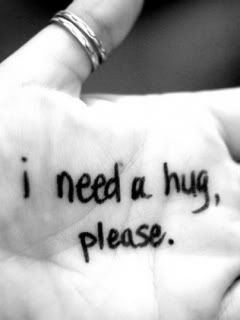 So please, I just need a Hug. I need something to know that it will all be okay, something to know that I am not alone. Today, I don't need or want much, I just need a Hug.....
26-30
4 Responses
1
Feb 19, 2010