MONSANTO THREATENS THE STATE OF VERMONT ... AND WINS
A lawsuit filed this week claims that the Monsanto corporation, "motivated by a desire for unwarranted economic gain," knowingly poisoned farmers that were pressured to use the company's chemicals.
Farmers from Argentina claim that agricultural giant Monsanto, along with Philip Morris and other major American tobacco companies, asked them to use chemicals on their crops that caused "devastating birth defects." The plaintiffs say that the corporations being included in the suit were aware of the implications but failed to warn the farmers, instead acting "by a desire for unwarranted economic gain and profit."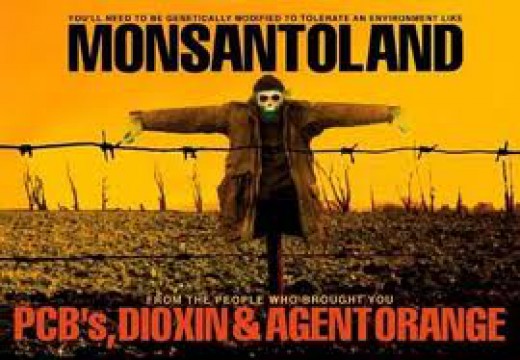 In the suit, filed this week at New Castle County Court in the state of Delaware, Monsanto, Philip Morris and others are said to have "wrongfully caused the parental and infant plaintiffs to be exposed to those chemicals and substances which they both knew, or should have known, would cause the infant offspring of the parental plaintiffs to be born with devastating birth defects." A 55-page complaint filed in court alleges that those chemicals caused conditions to develop that include cerebral palsy, epilepsy, spina bifida, congenital heart defects, Down syndrome, missing fingers and blindness.
Monsanto, who is no stranger to legal trouble, is named in the suit along with Altria Group fka Philip Morris Cos., Philip Morris USA, Carolina Leaf Tobacco, Universal Corporation fka Universal Leaf Tobacco Company and others.
The plaintiffs in the suit — growers from mostly small, family-owned farms in Misiones Province, Argentina — say they were asked to use herbicides and pesticide produced by Monsanto that were proven to be poisonous. Many farmers insist that they were driven to replace native tobacco crops with a variant favored by Philip Morris which required more pesticides to harvest. From there they were pushed to use Roundup, a Monsanto-made herbicide that, while successful in killing weeds, has ghastly side effects due to its large concentration of the chemical glyphosate.

MONSANTO THREATENS THE STATE OF VERMONT

Monsanto made waves last week after it was reported that the corporation announced that it would sue the state of Vermont if legislators there approved a bill that would force companies to label food stuffs that are made from genetically modified crops.

Following a warning from Monsanto, the state suspended voting on the measure.


 
THEMADHATTERXXXX
46-50
, M
3 Responses
3
Apr 11, 2012