My Therapy
I lived in Arizona from the beginning of third grade until the middle of fourth. I don't really remember how old I was and don't feel like counting. Anyways...
My parents (my mom and stepdad) were always pushing me away. pushing, pushing, pushing...go here, there, anywhere but home. anywhere but near our family that doesn't have room for you.
I was back in Arizona with another "relative" for seventh grade.
I love the desert. I lived on/in/near the sonora desert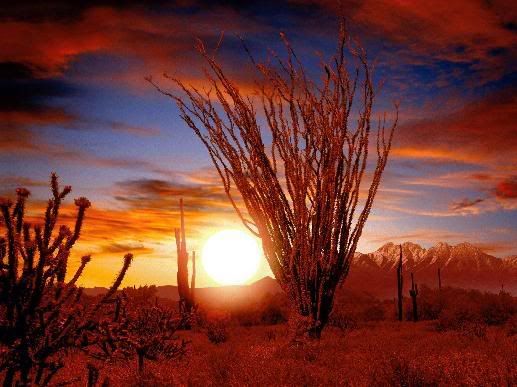 The first time out there, I saw a barrel cactus. well, the needles on one of these curve inward, and yankee doodle-IT thought that meant they wouldn't ***** my *** if i sat on them...ah-ha-ha....yeah....
yeah....i know....i don't see what the hell i was thinking anymore either lol
the desert is amazing. the smell when the rain first starts falling is so rich with the smell of life it's intoxicating. litearlly. i would stand outside and breathe until i felt dizzy.
(yes, now i know it's called hyperventilating)
thank god i loved nature because i don't know what i would have done without Her arms, growing up.
26-30
10 Responses
3
Mar 3, 2009