Wild Bee Nesting Blocks...
If you would like to attract wild bees?

What I like to use is a 12" or 18" or even a 24" long piece of (white cedar) 4x4"
I drill 5/16 inch diameter holes about 6 inches deep spaced about 3/4's to 1" inch apart.
You should mount the bee block at least 2 1/2 feet above the ground.
The white cedar seems to last longer than regular wooden 4x4's, and it doesn't get moldy so easily.

You should remove the bee blocks in the fall and keep them in a place that doesn't get below 0°F. like a garage or an unheated greenhouse.

The wild bees will lay eggs in the holes and plug them with plant material.
Females are laid in the bottom of the holes, while males are laid towards the front entrance of the bee block holes.
The hibernating bees need a winter period of below 40°F. temperatures to break dormancy.
Wild bees are hardier than domesticated bees and will fly during bad weather (rain and wind) if it's warm enough.
I've had good success with this method, and I just stick the bee blocks outside in the spring without cleaning the blocks.
The bees seem to do all the house cleaning themselves?

One thing that you need to do is to plant wild flowers, flowering bushes, or fruit trees to provide bee forage so that the bees will have a continuous supply of pollen, and nectar.
That will also attract a lot of humming birds and butterflies as well.
Good food for the eyes and the soul......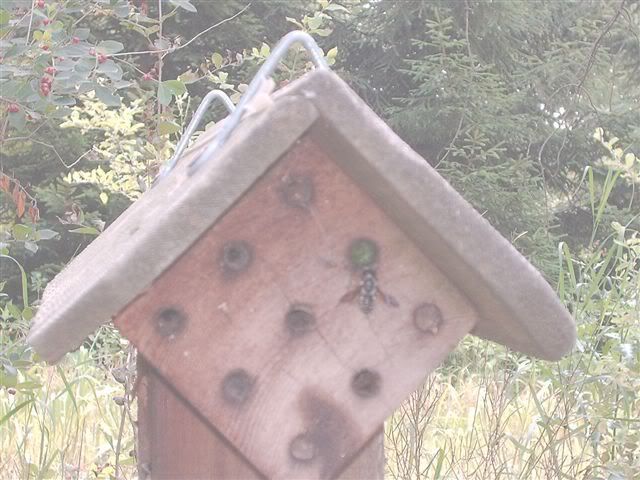 darwinsconfusion
56-60
, M
7 Responses
1
Feb 17, 2009