In A Heartbeat!
I would definitly transition if there was not anything holding me back. Unfortunetly life does not give you the oportunity to do all the things you want all at the same time. So I'm willing to wait till some of these things holding me back finish/clear up and hope that I don't get more on my plate in the meantime. Life would have been so much better if I could have just been born a girl totally. Then again, that is only what I can see within my small field of vision. I know (in the back of my mind) that there are probably reasons why I wasn't. All in all, things seem to work out in the end.
Yes, I'd go full-time if I could. That would mean gender counseling, hormone treatments, laser hair removal, name change, getting my nails professionally done and pierced ears. Oh, yes, I would go willingly ... no dragging me along.
If I wanted I guess could do all the same things I do now but dress as I wished. Because in daily life there isn't that much difference in what casual women's wear and the androgynous way I look now. For me the added advantage would be the ability to wear skirts and dresses, nylons and heels in a work atmosphere. In my profession I could be a woman or a man, as both are there in almost equal numbers. Some the women present a "male" appearance on a daily basis (except they don't wear ties). Then I would be the out of step one because I would wear a skirt/dress, nylons and heels every work day (except maybe 'Casual Fridays').
So if the question is would I present as feminine. Yes!!!! You see there is a major advantage that women have ... they don't HAVE to wear specific things They can wear what they want and pretty things at that. My day-to-day outfits already sport a lack of neckties, shoelaces and socks, and I have been "ma'am"-ed more than once by folks (even when they see my fce first).
I sure hope so ... as 24/7 as a woman is ALL that I truly want.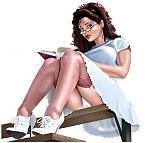 Josie06
56-60
, F
2 Responses
0
Aug 3, 2010